Next week turned into next month, next month turned into next season, and this blog nearly turned into one of the umpteen blogs that died after the first couple of posts, taking up a name that another prospective blogger had their heart set on (for a prime example go to goldensun.blogspot.com: I'm guessing we're not going to find out if Mellanie's boyfriend ever began to understand her). I wish I could blame a busy schedule for my but in truth it is laziness that is the cause of the lack of updates. So much for a blog motivating me to paint up the lead pile, after 4 months I've painted six sets of hands and faces, 6 waistcoats and basecoated one tunic. I hereby swear, before all several of you, that by this time next month I will have painted one SYW unit (no excuses).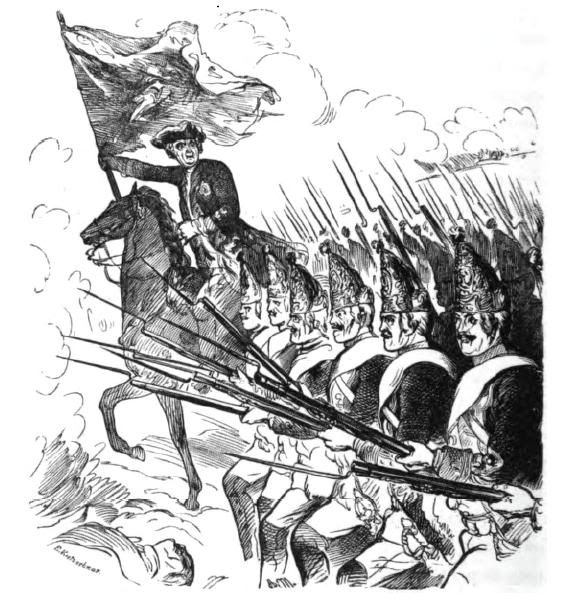 Shwerin at the Battle of Prague from the book by Kugler (see below)
The main reason for this post after so long is that I started searching for more books after I had had the SYW on the brain while booking rail tickets to go to Foundry's open day in Nottingham tomorrow. I almost immediately stumbled upon Kugler's Life of Frederick the Great. This book is the source of all the beautifully evocative Menzel prints that you see in the Ospreys on the Prussian Army of the Seven Years War. The sheer number of them is staggering; there is an illustration every couple of its four hundred and odd pages, with lovely old-fashioned picture letters at the beginning of each chapter.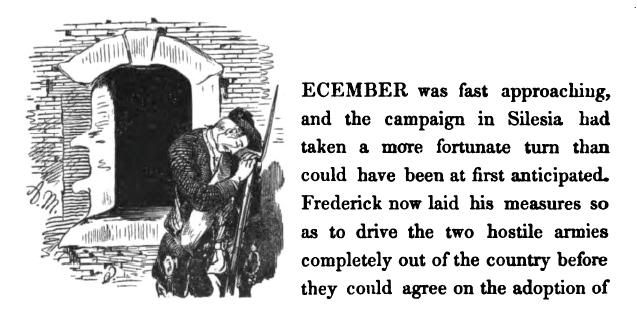 The greatest ever letter D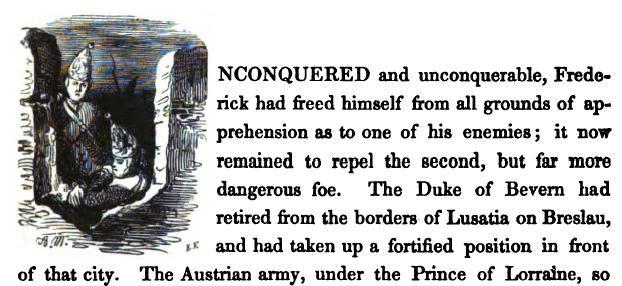 This letter U makes me wish my employer would rethink it's Arial only policy. I'd love to submit a report where the boss is confronted with a Prussian Grenadier staring blankly back at him.
A cursory glance makes it seem like the book is a nice easy read, full of the little anecdotes that make the period such a joy to read about. I doubt i'll be able to read much of it off of a nauseating computer screen, though. A link to the book is below, along with links to a few more:
Franz Kugler, illustrated by Adolph Menzel
(Thanks to David of Not by Appointment for this book which gives real insights into Frederick's character)
Sir Julian Stafford Corbett