Recently I've been taking a bit of a detour through the War of the Austrian Succession with my reading and at the moment the campaigns in Italy have particularly grabbed my attention. I think the uniforms were what drew me in initially, especially those of Savoy which are beautiful in their simplicity. That, and perhaps the scarcity of books in English on the subject initially gave it an air of mystery. For the past week or so I've been reading Duffy's The Wild Goose and the Eagle and when I reached the section dealing with the fighting against Genoa I remembered some absolutely lovely plates on the New York Public Library's
Vinkhuijzen collection of military uniforms. I first ventured there a couple of years ago and spent most of my time perusing the sections on the big players (Prussians, Austrians, French, etc.) but there are some real gems hidden in some of the smaller nations so I thought I'd post a few and the links to them, as they are really worth a browse if you get chance.
The plates in question all seem to be done by the same artist and cover the uniforms of Genoa and Modena. There are also some more by him of later Italian uniforms from the French Revolutionary Wars onwards. All of the plates take the form of scenes and this gives them a real character and charm. I don't know the artist's name, but if you happen know anything about them (who did them, did he do any other mid 18th century, are books available with them in etc.) please let me know in the comments section of this post. I'd be very grateful for any help you can give.
Anyway I'll stop waffling on now and post a few pictures:
Genoa
Officer reading a message while Swiss and Genoese soldiers, and what I think is a scout or light infantryman of some kind, look on.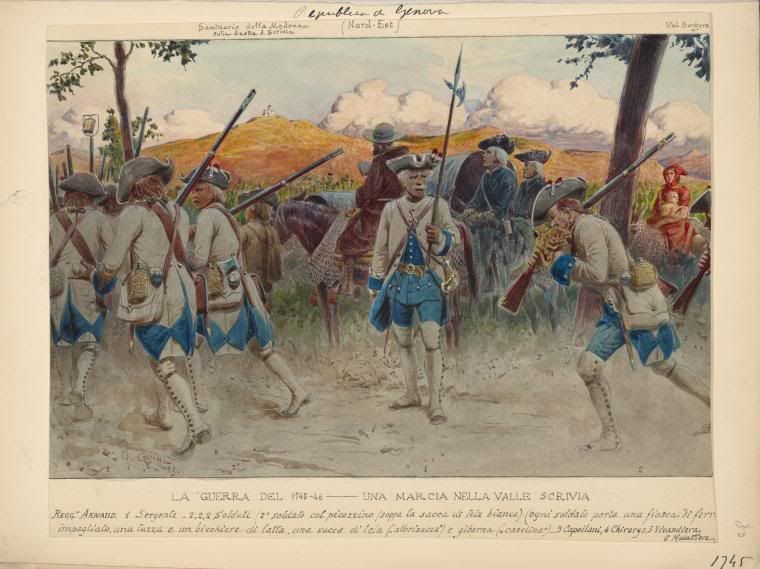 Genoese soldiers march down a dusty Italian road under the watchful eyes of their sergeant.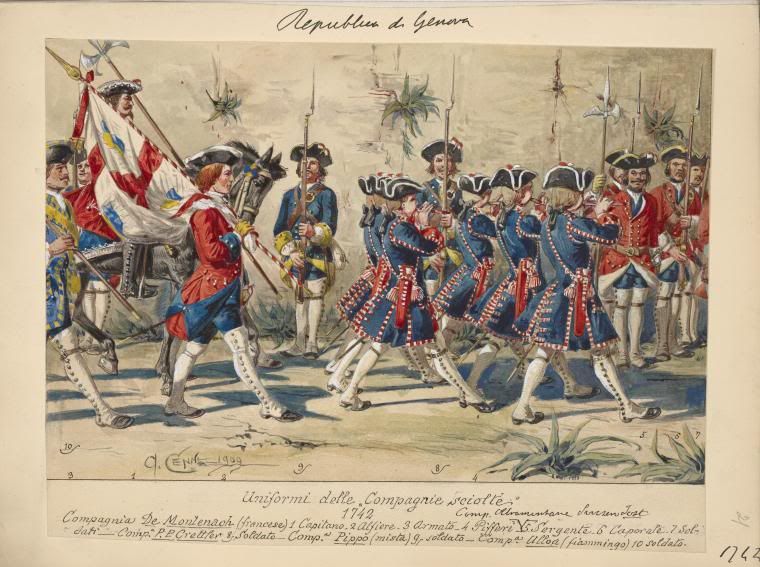 Swiss infantry marching behind their fifers.
A rather forlorn-looking Piedmontese prisoner (from a Swiss regiment, I believe) is brought before relaxing officers and a lady.
Modena
A soldier and follower dance in camp.
Swiss soldiers go for a stroll.
A selection of uniforms, I particularly like the combination of colours on the two gossiping in the middle.
Towards the end of the century a soldiers' fight rapidly escalates into bloodshed.
If you haven't been on the New York Public Library's
Vinkhuijzen collection of military uniforms I can't recommend it enough. It's great that such a valuable resource has been made public, and on top of that they actively encourage sharing by providing links to embed the pictures in your own websites. More plates by the same artist as did these can be found in the Italy section under Genoa, Modena, Italy 1796-97, Minor States and probably more besides.
My painting has stopped completely over the last few months as I've been cramming in as much overtime as I can but I hope to get something posted in the next couple of weeks or so. I really can't let myself down this month. I've got a bit of extra motivation, though, because as soon as I get through the stuff I have on the go already I can get on to painting some lovely Minden Miniatures hussars currently sitting in the cupboard.